Traditional Metal Braces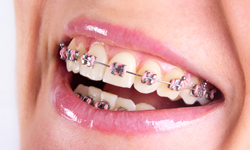 Traditional metal braces are the most common type of braces and are more comfortable today than ever before. Made of high-grade stainless steel, metal braces straighten your teeth using metal brackets and archwires. With metal braces, you have the option of adding colored elastics (rubber bands) for a more unique and colorful smile.
Lightforce 3D printed braces
Lightforce's 3D printed braces, you'll get braces that are fully customized, meaning they're designed for your teeth only. This can lead to faster treatment time, fewer appointments, and a more comfortable fit. Lightforce braces come in either white or clear brackets.